The Neat Feat Heel balm is an oil based product, this enables the balm to stay over the affected area, and the active ingredient rehydrates the skin, repairing damage with noticeable results within 5 days.
Regular price
Sale price
$17.00 USD
Unit price
per
Sale
Sold out
A highly effective formula that repairs damaged dry skin of the heel and foot
Neat Feat heel balm contains urea which restores the natural balance of the affected area
The balm remains over the affected area - repairing the damage and rehydrating the skin
Recommended by podiatrists
To understand how the Neat Feat Foot and Heel Balm works - we need to understand how we get cracked heels. Cracked heels are due to a loss of moisture from the heel of the foot. Exposure to dry conditions will cause a loss of moisture that results in fissures or cracks developing. The Neat Feat Heel Balm is an oil based product thereby enabling the balm to remain over the affected area.
The active ingredient rehydrates the skin and repairs skin damage with noticeable results within 5 days. Once the repair work is done, the lighter Neat Feat Foot & Leg Moisturizer can be used on a daily basis to maintain smooth heels. Neat Feat Foot and Heel Balm is used widely by diabetics to ensure their skin stays smooth and prevents cracking and foot deterioration. Recommended by many podiatrists worldwide.
How Foot and Heel Balm Works so Effectively
The product contains 3 key ingredients that will assist in preventing drying and cracking of the skin of the heel and foot, elbow and knees and assist in the rehabilitation of already damaged skin.
Urea
Urea is a key ingredient of the skins own Natural Moisturizing Factor. It acts by facilitating the absorption and retention of moisture by the skin. The process is known as "Hydrotopic solubilization".
The skin of the foot and heel is particularly prone to drying and subsequent cracking, especially when shoes are not worn, or sandals are worn. The natural urea content of this part of the body is severely depleted because the urea is removed by direct contact with the ground, mechanical abrasion and water.
Urea in the Foot and Heel Balm assists in restoring this natural balance, remoisturizing the foot. This softens the skin and accelerates the healing process. In addition urea has Keratolytic properties, hastening the breakdown and removal of dry scaly skin.
Lanolin
Lanolin is able to mix with and entrap particles of water mimicking the action of natural skin lipids. Its unique structure allows this lanolin/water emulsion to penetrate to the depth of the Stratum Granulosum, well into the epidemis below the dry outer layer (Stratum Corneum) of the skin. This depth of penetration is responsible for its well known properties of durable, lasting hydration and reduction of skin roughness.
Petrolatum
Petrolatum is the technical term for the branded material Vaseline. Its virtue is that it forms an occlusive (barrier) layer on the skin surface, dramatically reducing the loss of water by evaporation and protecting the skin from environmental assaults.
Looking after your feet
This is a simple, regular process to follow to keep your feet in good shape. During showering use the Neat Feat Foot Scrub Soap, an exfoliating soap that removes ingrained dirt and dead skin. This soap contains kiwifruit seeds and walnut crush which makes for an invigorating scrub. After bathing or showering go over areas of rough or built up skin with the Neat Feat Foot Pumice. Pumice has been used for centuries and works well after feet have been bathed in water. After using the pumice, inspect your feet for any cracks or fissures; apply the Neat Feat Foot & Heel Balm to affected areas. Once cracks have disappeared massage in Neat Feat Foot & Leg Moisturizer on a regular basis. The Neat Feat Foot & Leg Moisturizer is a rich moisturizing cream that has been especially developed to repair excessively dry skin.
Testimonials
"I found that Neatfeat 'Foot and Heal Balm' has made a tremendous difference to my cracked feet problem...I now only use Neatfeat."
- Mr D.H, Albany, New Zealand
Reviews
From FoxyVoxy.com
"...This magical mystery product is, of course, Neat Feat Foot & Heel Balm, and it is the single best unsightly-feet-fixer I have ever used. When looking at something to penetrate and soften dead and callused skin, urea (lab-synthesized) is the magic ingredient, but there are plenty of foot creams that have urea that don't do squat. Unlike most other drugstore foot-care products I've tried, Neat Feat Foot & Heel Balm is a thick, oil-based balm, which means that it stays where it's put and takes a long time to absorb into skin. This gives the urea a long time to penetrate and really softens the skin. The balm does not smell like roses or cookies or anything else delicious, but it certainly works. This is a product that caused me to see a real difference in just one night..."
View full details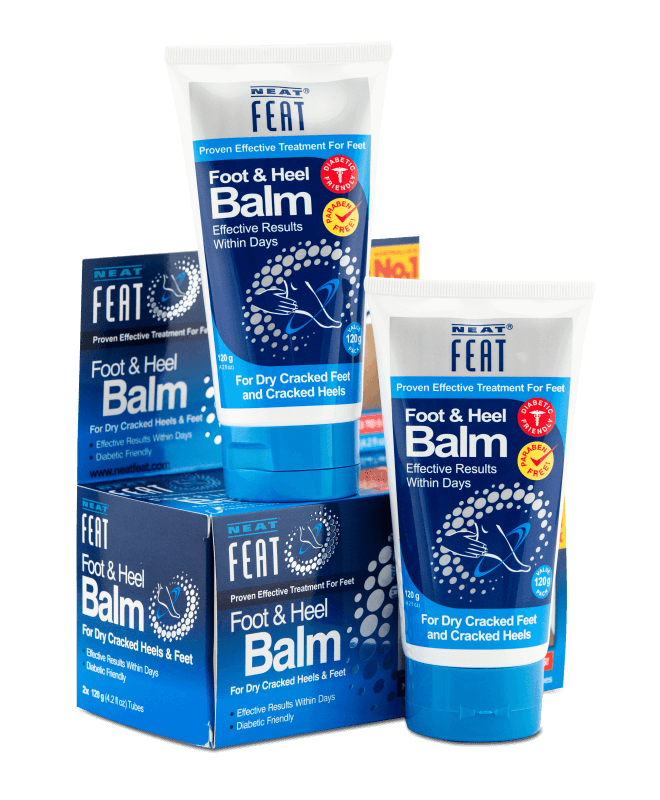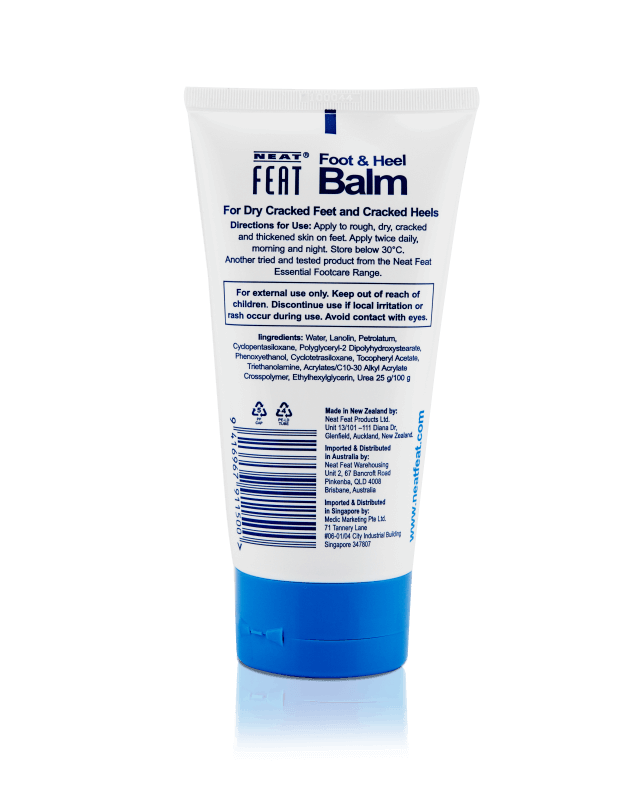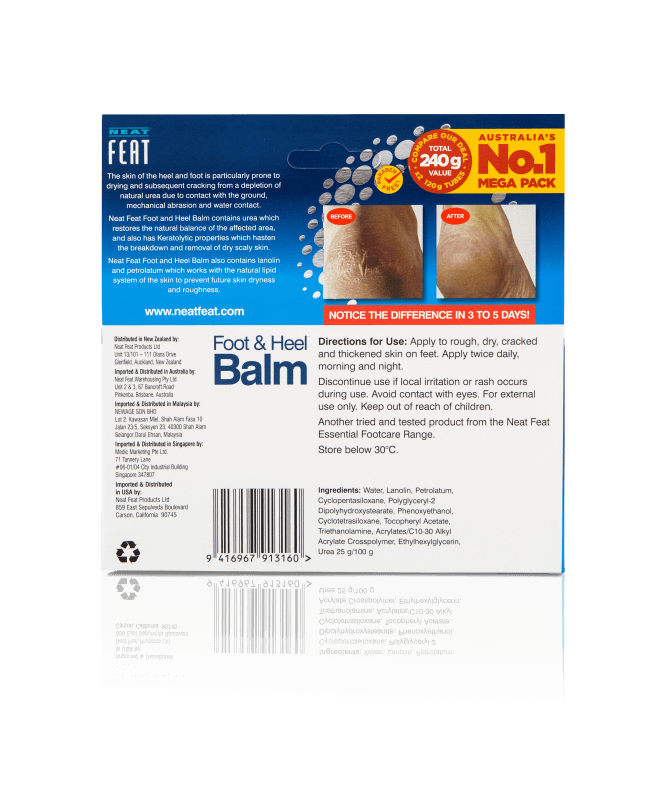 This is the best stuff for cracked heels. I have used it for years. It feels icky but it works.
The best feet cream ever!!!
Great product and works very quickly!
I LOVE THIS FOOT BALM... I have been looking for one for the longest time and read the reviews about this one and decided to try it and I am so glad I did I will be ordering more.
I've had extremely dry feet with deep cracks in my heels for weeks now, and it had gotten to the point where it hurt to walk. I noticed an immediate difference after one/two uses of this balm, and it's insane how well my feet are healing after less than a week of using this product. I highly highly highly recommend buying this if you're experiencing the same problems as I was!!!