During showering use the Neat Feat Foot Scrub Soap, an exfoliating soap that removes ingrained dirt and dead skin. Packaging may differ
Regular price
Sale price
$5.00 USD
Unit price
per
Sale
Sold out
Soap? Exfoliant? All in one? Yep - that's what happens when you choose Neat Feat. No bathroom cabinet is complete without this high-performance exfoliant soap that removes even the most ingrained of dirt and lifts tough dead skin cells to the surface.
Bursting with deliciously-soothing kiwifruit seeds and crushed walnut shell
Immerse yourself in an invigorating scrub anytime day or night
Soothe and smoothen dry skin while giving hardworking feet a break
Use daily to build and maintain soft, smooth, and supple feet around the clock
Instantly comfort and console hot and tired feet with "sole" food
  If you think you're tired, just imagine how your feet feel. They silently carry your weight around, all day every day, without ever complaining or asking for a thing in return. At Neat Feat, we believe that no hard work should go unrewarded. Thank your soles for keeping you standing and moving forward, with a foot scrub soap and exfoliant that's proven to be effective. Immerse your feet in an irresistible kiwifruit and walnut aroma fusion, lovingly blended with other all-natural ingredients you'll love. The Neat Feat Exfoliant Soap features an advanced yet gentle formulation that's safe for the whole family, and our shining reviews speak for themselves. To see what all the fuss is about, add this high-performance exfoliant soap to your cart right now. You can also find us at your local pharmacy. Indulge in an invigorating scrub, anytime, anywhere - only with Neat Feat. Worldwide shipping available!
View full details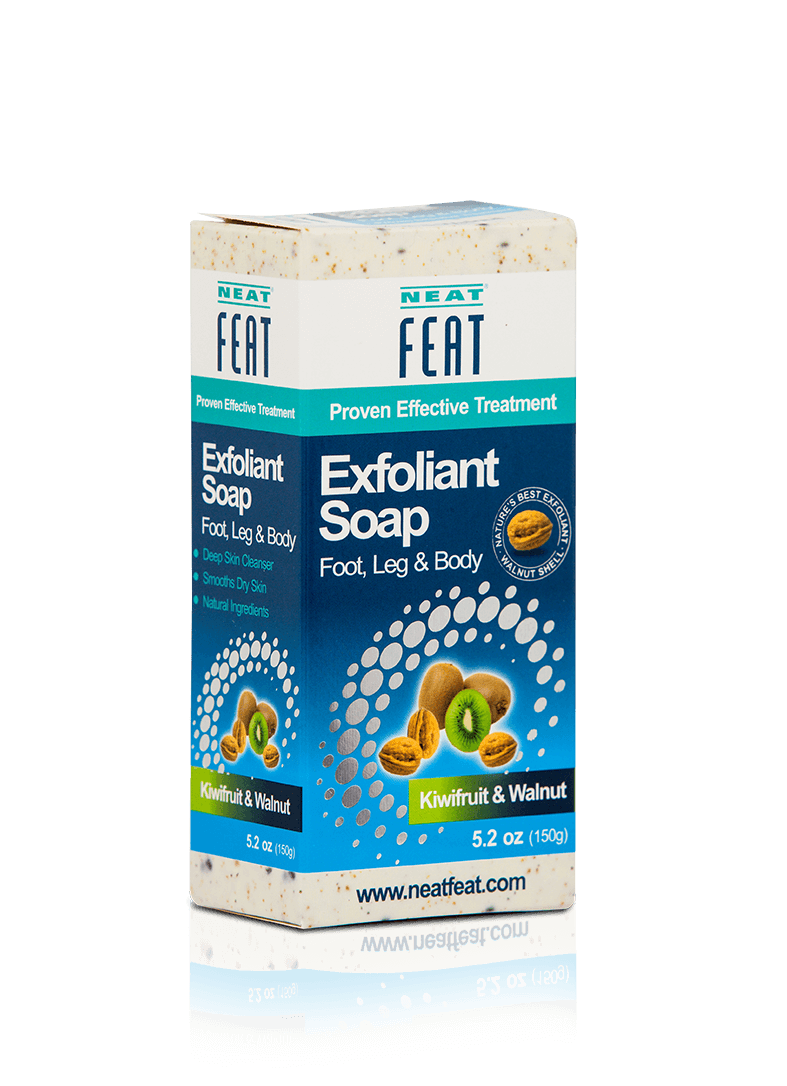 I love this foot soap and have been using it for about 12 years. My feet are always soft and smooth. I use it each night and I loofah my feet about once a wee. Great stuff and about $2 a bar. The only thing I hate is when it cracks and dries out as it gets older but it is so cheap and lasts for months so really doesnt matter.
cheap, effective
nothing
I have had dry flaky feet for years and I used foot creams and a pumice and although it kept it all at bay it never fixed the problem. I stumbled across Neat feat kiwi fruit and almond exfoliating soap bar and used that and immediately I could see a difference
Amd the fragrance was gorgeous. Within a couple of days my feet were nearly perfect. I bought their foot leg and body moisturiser for my feet and now my feet are perfect. This cream did not leave a greasy feeling like other creams have. I decided to investigate other products of theirs and bought a pair of zoris. So comfortable. They are like little hugs for my feet. I wish I had come across these products years ago as they truly work. I can't fault them. I will now use all their products forever and will highly recommend them to friends. I love them so much I would like to work for them but alas I live in the wrong State in Australia. Thank you for curing me if my embarrassing feet.
Good Pretty good. Boys like using it.